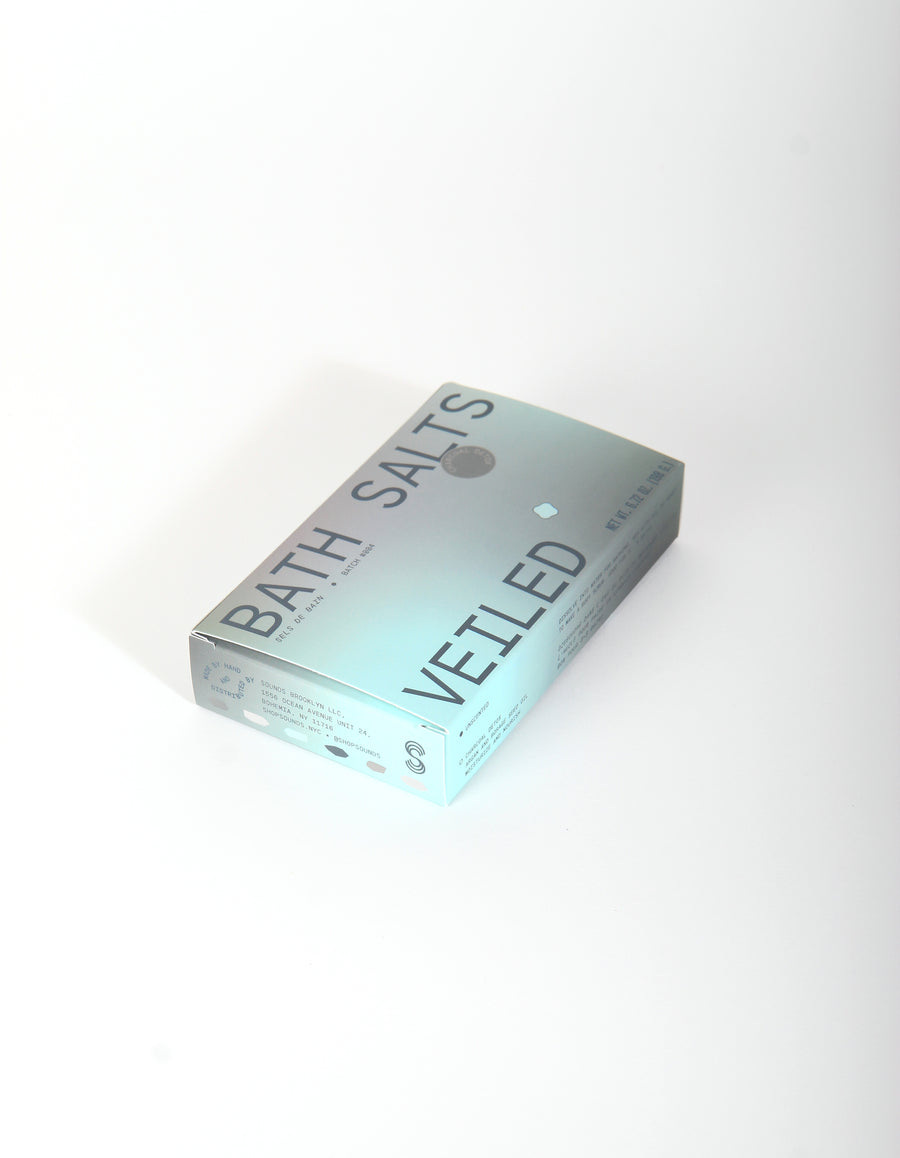 A new bath salt, designed to be fragrance-free and essential oil free. Infused with Argan and Borage seed oil, and speckled with charcoal salt. Detox and nourish skin while coddling sore muscles. Perfect for those with sensitive skin or sensitivities to essential oils. 
UNSCENTED ~ CHARCOAL DETOX ~ ARGAN ~ BORAGE SEED
MOISTURIZE ~ NOURISH 
Add one 1/5 - 1/3 of salts to bath and dissolve, or mix with honey to create a luxurious scrub.
Good for 3 - 5 baths or scrubs.
Made in NY using 100% natural ingredients.
 Due to high oil concentrations, fine charcoal powder may remain on the tub and skin. While it is not harmful to tile or skin, it's best to gently wash it away with hot water. Residue on the tub is easily removed with hot water and a sponge or cloth, vinegar, or by using your regular method of tub cleaning. Tubs that are not completely clean prior to the use of these bath salt may have a higher concentration of remaining charcoal powder.
At Sounds we never test on animals, only ourselves, and volunteer friends and family members. 
Our ingredients are sourced from the finest distributors. All boxes of bath salts contain a warning disclosure as required by the FDA. Patch-tests are recommended for all products always. We particularly recommend this for people with skin sensitivities and essential oil sensitivities. Our bath salts include the highest concentrations of essential oils recommended for such formulas as we want our customers to have a deep, immersive, and valuable experience with our salts. 
Bath salts are not recommended for those with open cuts or wounds. Bath salts must be stored in a cool, dry place, we do not include chemical additives in our formulations that would stop clumping. Preservatives are not used in our formulas,  the scent and quality of bath salts will deteriorate if left exposed. Some bath salts, like Mystic, may change color when exposed to light or oxygen.

INGREDIENTS: MAGNESIUM SULFATE(EPSOM SALT) HALITE(HIMALAYAN PINK SALT) ARGANIA SPINOSA (ARGAN)OIL BORAGO OFFICINALIS (BORAGE) SEED OIL SODIUM CLHORIDE (SEA SALT) ACTIVATED CHARCOAL POWDER, 
Customers Who Liked This, Also Liked These