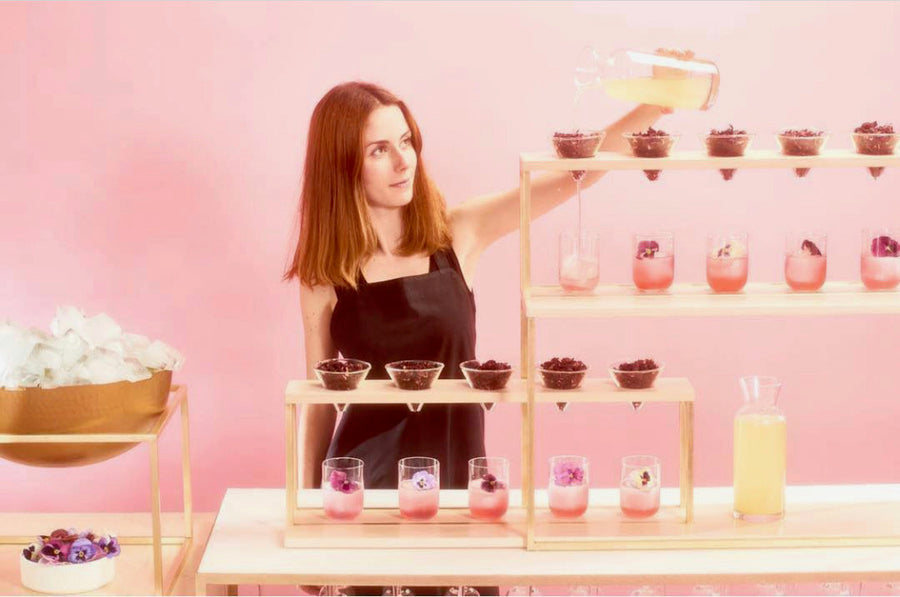 Making a shrub takes 3 simple ingredients and will turn any fruit into a delicious and refreshing drink. You can use it as a base for soda waters, iced teas and cocktails. It will concentrate all the flavors of the fruits while bringing an amazing sweet and sour kick.  The idea is to take whatever the season is inspiring you to make. It's also a good way to utilize any leftover ripe fruits you might have. Mix the fruits or create and herbal infusion, my two current favorites are strawberry-rhubarb and apricot-rosemary.
The Moodflower Calm Tea has this unique sweet, tartness from the hibiscus. It pairs perfectly with the tanginess of the rhubarb. The combined colors create this exceptional saturated pink, making a vibrant summery drink! Try it with the added benefits of a tincture such as Wooden Spoon Herbs' Rose Colored Glasses, a mood boosting concoction, the combination of tea, fruit, vinegar and tincture will elevate your mood and aid in gut health. 
R

H

U

B

A

R

B

S

H

R

U

B
1 pound rhubarb, cut into 1/4" pieces (can be replaced by any seasonal fruit)
1/3 cup apple cider vinegar
1/2 cup sugar
Combine the rhubarb, vinegar and sugar in a medium saucepan. Cover and bring to a boil, then reduce heat to low.
Cook, stirring occasionally, until rhubarb is completely broken down, 10–15 minutes. Using a hand mixer, puree the mixture and transfer to a jar. Let cool to room temperature, then chill.
(a shrub can be made up to a week in advance and stored in the refrigerator.)
C

O

C

K

T

A

I

L
Per glass (I usually like to make a big pitcher to share)
1.5 oz rhubarb shrub
2 oz tequila (can be substituted with sparkling water)
2 oz cold brewed Moodflower calm* (can be substituted with another hibiscus tea)
Half lime juice
Stir and add ice
Garnish with a rhubarb ribbon or any fun market finds (here I found some chamomile flowers at the farmer's market, which is an ingredient in the Moodflower tea).
To make a rhubarb ribbon for garnish, use a vegetable peeler to take a long strip off a rhubarb stalk.
S

U

N

T

E

A
*To make 4 cups of cold brewed tea:
You can reuse the previous SunTea recipe: infuse 4 tablespoons of Moodflower Calm In a Glass Jar. Fill it with 4 cups of filtered water and let infuse in the sun for 5 hours or in the fridge overnight. Strain the tea in a pitcher and refrigerate until use. Keep the flowers to re-make this recipe three more times.