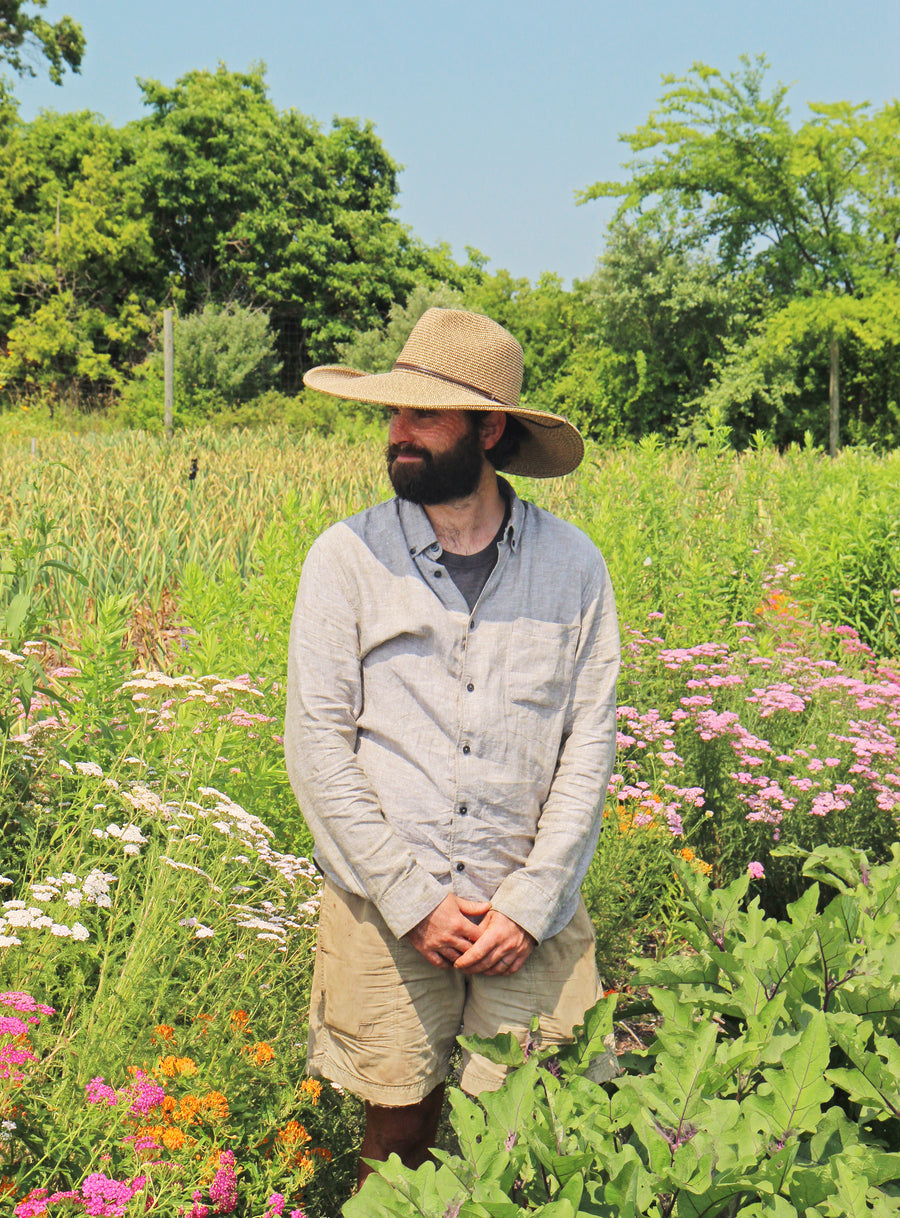 Tell us about Jamesport Farmstead
Jamesport Farmstead is run by myself and the two owners, Kim Frank & Jeff Brown. We are located on one of the first parcels of land to have the development rights owned by Suffolk County in an effort to preserve agricultural land. While the property is 56 acres we are currently using roughly 10 acres for production farming. We are a diversified vegetable and fruit farm and we also have a flock of 140 heritage breed laying hens.
Our basic goal is to grow and harvest fresh nutrient dense produce by taking a step towards mother nature rather than away from her. And towards this end, we do not use any herbicides or pesticides of any kind and we don't employ the use of any tilling equipment in our fields. We are also Certified Organic through NOFA-NY
What makes Jamesport Farmstead unique?
While there are more and more 'no-till' farms popping up around the country (which is very exciting), no-till farming is still a relatively little known practice outside the farming community. I think, and I could be mistaken, there are even fewer no-spray farms.
Why is the practice of "no-till" good, or "better" than traditional farming that uses the tilling method?
The short term benefits of tilling the land make it easy to see why it is the industry standard. But, t
aking heavy iron blades to the soil multiple times a year is a sure fire way of creating dirt, the goal of the organic farmer is to grow soil. 
 By reducing or excluding tillage a stronger, more diverse soil microbiome can thrive. All plants benefit greatly from a complexity of microbes living in the soil which they grow in. In fact healthy, living soil produces more healthy, nutrient dense food. The effect we are going for in our fields is a soft, moist and springy soil structure rather than a heavily trodden and compact baseball diamond.
 Do you have a ritual that helps you feel creative and inspired?
 I have a few rituals that help clear my mind each week. One that Comes to mind is walking the farm after the crew has left. I can unwind a bit and think about what's next on the to do list. During this time I can fully appreciate how much we've accomplished and a little alone time is super important for me every once in a while. 
Guide us through a day or week at the Farm.
Now that the season is in full swing, we are harvesting 4 days a week to wash and pack produce for our three on-site markets each week. We are also at the Westhampton Beach Farmers' Market every Saturday, offer online sales to be picked up at the farm and have a couple wholesale accounts with local restaurants and businesses. During the late fall and early spring our work days are focussed on putting the farm to sleep and getting things ready for the main growing season.
 What are some of your favorite plants, what do you love growing most?
 I have a few categories of plants that I like to grow for one reason or another. The list is as follows: cover crops, flowers, fruits and finally vegetables. Growing fresh produce doesn't really need an explanation. My wife Hallie and I do our best to eat healthfully and eating ecologically grown food is largely why I started farming. Placing flowers second on that list is likely because I never fully appreciated the absurd number of flowers (perennial & annual) there are. Each spring and summer season, I love watching different things bloom. First the early spring bulbs like daffodils, tulips, crocucus. Then forsythia, oak, magnolia, lilac, dogwood, autumn olive, mulberry, catalpa.....all these perennial trees and shrubs just pinging one after the other like a well rehearsed, slow moving light show. I put cover crops first, they neither look or taste all that delicious nor are they a cash crop. Their purpose lies at the core of why I farm. For the most part I describe myself as a grower of food, but distilled even further down I'm really a grower of soil. Cover crops build soil structure, add organic matter, sequesters carbon and perhaps most importantly cuts down on weed pressure. Growing healthy, living soil is the single most important goal of ours and cover cropping is the best way for us to do that. *if I didn't need to earn a living selling produce I would mostly be growing different blends of cover crops*
 What is your favorite product from Sounds? What do you like about it?
 I have a handful of Sounds' products at home and would have to say that bars of hand soap are my absolute favorite. That in tandem with the beautiful soap dish in brick that we have is a 'daily driver' in our house. I'd like to include an honorable mention here, the stiff bristle nail brush I picked up the other day is wonderful as well!